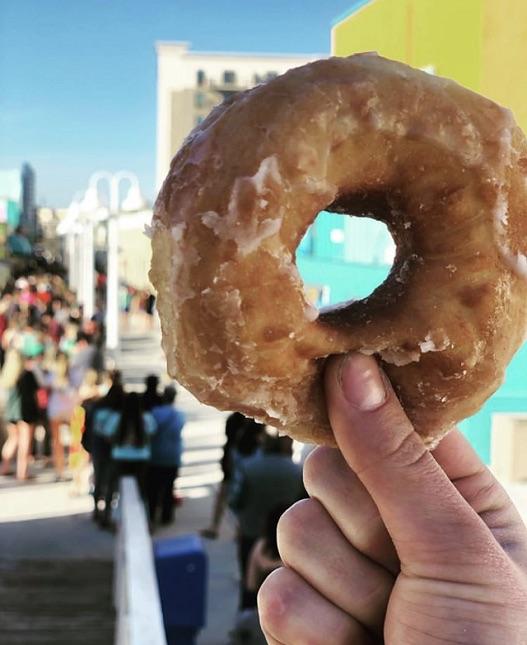 This donut recipe isn't the legendary original from Britt's, but it might work in a pinch when you are craving a Britt's-style glazed donut but can't make it to Carolina Beach, NC.
Britt's Donut Shop
11 Boardwalk Carolina Beach, NC
(910) 707-0755
The iconic and legendary Britt's Donuts is a Carolina Beach tradition. These made-from-scratch donuts have been delighting tourists and visitors alike with their glazed, doughy masterpieces. Still crafted from original 1939 recipe and served warm and soft, it's an experience that should never be missed when visiting Pleasure Island.
Owner Bobby Nivens was born in 1939 – the same year that the Britt's Donut Shop was opened on the Carolina Beach Boardwalk by H.L. Britt. Nivens has owned the shop for more than 40 years.
Britt's Donut Shop is open seasonally. (Weekends starting in late March through Memorial Day. Everyday from Memorial Day through August. Closed in late September until March).
---
Ingredients
active dry yeast, 2 packages 
all-purpose flour, 9 cups 
butter, ½ cup
corn syrup, 1 tablespoon
eggs, 2 room temperature eggs
granulated sugar, ½ cup + 3 tablespoons granulated sugar divided
oil for frying
powdered sugar, 4 cups
salt, ½ teaspoon
vanilla extract, 1 teaspoon
warm water, 1 ½ cups 
whole milk, 2 cups divided
A stand mixer works best.
Instructions
For the dough: In a medium saucepan, heat 1 ½ cups of the whole milk over medium heat until it simmers. Remove from heat.
Add ½ cup sugar, plus salt and butter. Stir and set aside.
Add warm water to a small bowl; add 1 tablespoon of granulated sugar and the two packets of yeast. Stir. Set aside for 5 minutes. The yeast should foam up and create bubbles.
In mixing bowl of stand mixer, stir together the yeast mixture and milk-butter mixture. Add the eggs and beat with mixer.
Add 1 cup of the flour to the wet mixture using the dough hook of stand mixer. Incorporate the remaining flour (1 cup at a time). Mix until flour is incorporated into the dough.
Knead: Put dough on a lightly floured surface and knead for 5 minutes until smooth. Add extra flour as needed.
Let Rise: Grease bowl and add dough. Cover with plastic wrap. Set aside until doubled in size, (approximately 60-90 minutes).
Tap down the dough, then re-cover. Let rise a second time for 60 minutes.
Roll: Roll out dough on clean surface. Roll to one inch thickness.
Use donut cutter or a biscuit cutter to cut out donuts. Cut center of donut out.
Place donuts on large cookie sheets and set aside while you prepare the oil.
Fry the donuts: Add vegetable oil to large pan (or Dutch oven, deep fryer, etc) to at least 2-inches depth. Heat the oil to 350 degrees F.
Use metal spatula to gently lower each donut into the hot oil. Fry donuts one or two at a time on each side for about 1 minute until golden brown.
Remove from the oil and cool on a cooling rack with a baking sheet or paper towel underneath.
For the glaze: In a medium mixing bowl, combine powdered sugar, corn syrup, vanilla extract, and ½ cup of whole milk.
Dip the warm donuts into the glaze and return to the cooling rack for the glaze to set.
---